Vertical mill hub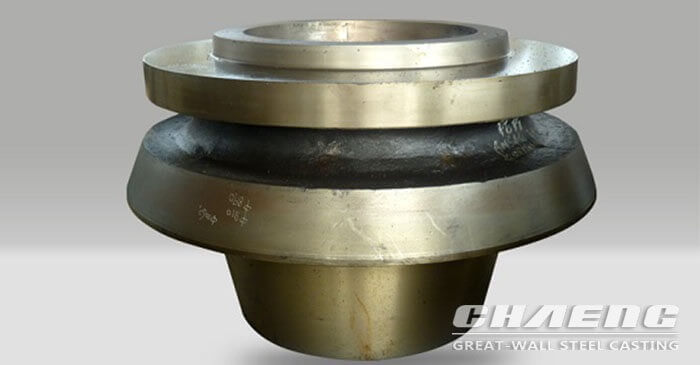 Good Wear-Resistance

NDT Tests

Hard to Break
Weight: 5~30T
Applicable devices: all types of vertical mills, mineral slag vertical mills, cement vertical mills, steel slag vertical mills, nickel slag mills, raw material vertical mills and coal vertical mills.
Application: Cement, building material, chemical, coal, electricity, metallurgy, non-metallic mine, etc
Customizable: Yes
Wheel hub is the core part of grinding roller assembly. The roller cover is fixed on the hub, and the hub is installed on roller shaft, which forms the grinding roller assembly. Generally speaking, roller shell and wheel hub is connected together in the tapered structure, which is convenient for easy maintenance and disassembly.
Advantages:
1. The Wheel hub of grinding roller produced by Great Wall Steel Casting has good wear-resistance, and are hard to break.
2. We always insist on this principle: before delivery, the professional inspectors carry out many times NDT tests on the stress surface of wheel hub. No product with bad quality can leave factory.
Our main material for the Vertical mill hub is similar to followings: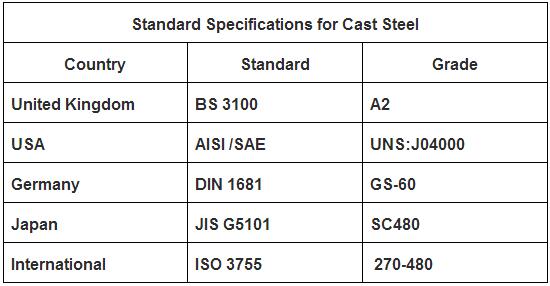 Quality assurance:
The fabrication route is governed by the provisions of the implemented Quality System ISO 9001: 2000. The standard documentation ensures the full traceability of every process step:
• Manufacturer test certificates according to DIN EN 10.204 § 3.1 including chemical composition, mechanical properties and non-destructive examination;
• Dimensional check supported with a "as-built" sketch;
• Record of the heat treatment chart;
Our service
Pre-sales Planning
Be a good staff and assistant of the customer, and make sure every investment get high return.
Provide suggestions for the customer about steel castings production according to customer demand or drawing size.
Design the manufacturing process of casting parts according to customers' special requirements.
After-sales Service
The end of sales is not the end of our service. Continuous and reliable service will save your worries.
Our casting warranty is one year, during which maintenance is free.
If any problem comes up, please contact with us at any time. We will send professional technician on-site service.
Wheel Hub Manufacturing Process:
1. Wooden pattern Production
2. Molding
3. Pouring
4. First cleaning
5. Heat treatment – grinding (inspection)
6. Rough machining (inspection)-finishing machining (inspection)
7. Packing-delivering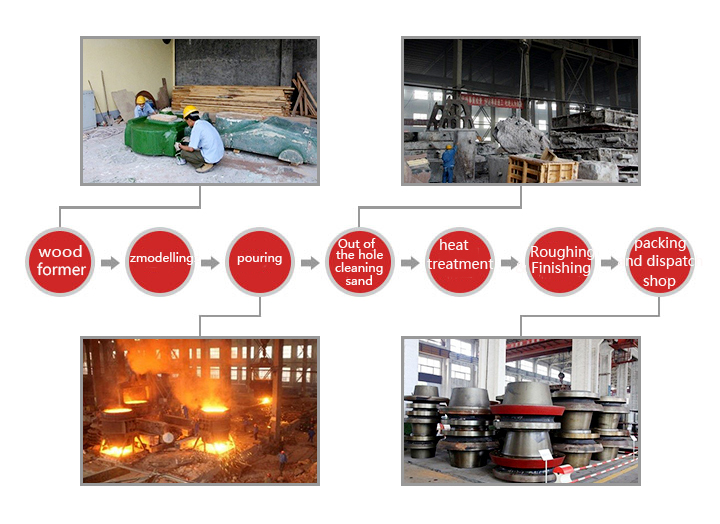 Case:
Hubs of Great Wall Steel Casting are applied in the domestic well-known vertical mill manufacturer -CHAENG (Great Wall Steel Casting Co.,Ltd).They also gained the trust and acceptance from building materials enterprises located in Tianjin, Hubei, Dalian, Tangshan, etc. because its high quality and reliable service has brought them profitable economic and social influence.
Application:
coal vertical roller mill