Slag Pot/Slag Ladle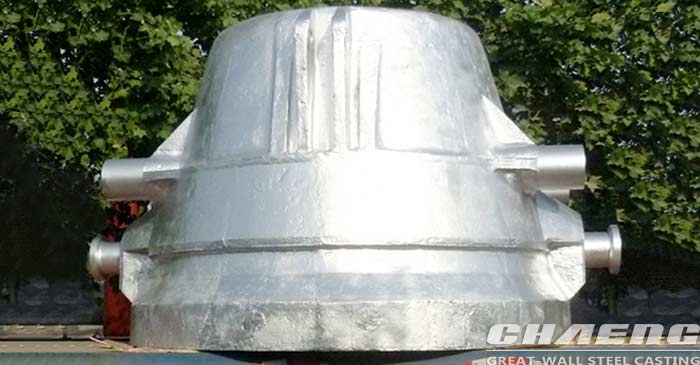 Technological Innovation

Long Service Life

Process Stability
Weight : 1~150 t
Capacity: Customized
Material: DIN 17182 GS-16Mn5 1.1131
Specifications and shapes: according to your demands and drawings
Application: slag pot/slag ladle in steel works
Customizable or not : Yes
(Customized designs can be made as per the requirements of the buyer.)
CHAENG slag pots /slag ladle introduction:
CHAENG cast steel slag pots/slag ladle are available with finished weights range from 1– 150 tons.
CHAENG has the capability to cast slag pots in nearly every shape and style for a variety of mounting systems and methods of transport.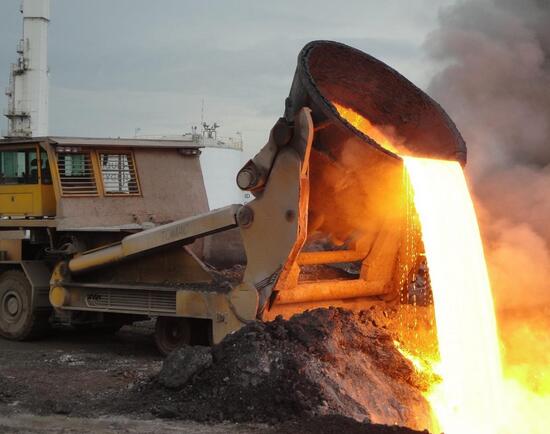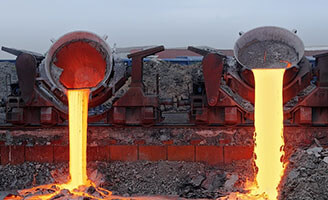 CHAENG slag pots /slag ladle applications:
Utilized in: BOFs, AODs, Electric Arc and Blast Furnaces, and nonferrous refineries for the melting of magnesium and copper nickel smelting.
Also suited for a number of processes, such as lead, aluminium, iron, steel, chrome, manganese, copper and other smelting applications.
CHAENG slag pots /slag ladle advantage:
1. Many users: CHAENG slag pot / slag ladle is the common choice of many large world-renowned steel enterprises such as: Mittal Group, Tata Group, Taiwan Zhong Hua Iron& Steel Company, and so on.
2. Durable: CHAENG slag pot engineers adopt suitable material, customize and optimize the casting technology according to actual operating conditions. So CHAENG slag pots have: excellent high temperature mechanical properties, good thermal cracking resistance, stable manufacturing process and so on.
3. Longer service life: Up to 6000 times of usage frequency. First maintenance can be done 2~3 months later than similar products from other manufacturers.
4. Mature casting processes, rich experienced manufacturer: CHAENG, as a rich experienced manufacturer, has mature casting process and technical teams. CHAENG performs digital simulation of casting process by means of CAE before pouring, to achieve the optimization of slag pot casting process.
5. Level 2 of flaw detection: Ultrasonic and magnetic particle flaw detection level can reach the second level of standards.
6. Smooth side wall: Smooth inner wall of slag pot, to avoid adhering slag during operation.
7. Good appearance: CHAENG is quite skillful at shot blasting and sand blasting to ensure the good appearance of slag pot / slag ladle and improve paint adhesion.

slag pots /slag ladle OEM services:
It's fit for many kinds of steel making mills, aluminium smelting plant, machinery manufacturer etc.
If you interested in our products please feel free to contact us. Tell us your interested products and some details such as send me E-mail with product drawing. I believe our products will bring the convenience and benefit to you. We are looking forward to your inquiry.
Slag Pots /Slag Ladle

Manufacturing Process:
Except the supply of the forgings for trunnions and the engineering of the pattern, all further operations are carried-out at the in-house foundry plant.
• Moulding
Sand moulding.
• Trunnions
The trunnions - when any - are preferably cast-in: they are as a rule manufactured from the steel material S355 J2G3 to DIN EN 10250-2.
• Melting
The melting is carried out in the oxygen steel plant; the ladle capacity allows a continuous bottom pouring process the speed of which is permanently controlled. The metal analysis is checked by using a computer linked spectrograph.
• Heat treatment
- Heating to a temperature above AR3, austenitising at about 915°C and controlled cooling in furnace
- Intermediate holding at 600°C - 630°C and completion of cooling in furnace down to 300°C
• Fettling and dressing
The inner surface is processed fit-for-purpose so that the surface discontinuities - which might cause some sticking of the slag - are extensively removed. Additionally, the castings are descaled by shotblasting and the outside is additionally coated for transportation.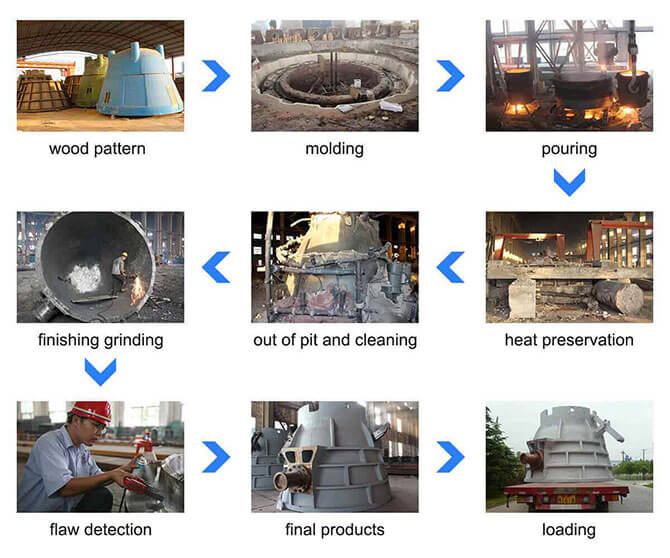 Case:
Slag pot / slag ladle made by CHAENG (Great Wall Steel Casting Co.,Ltd) has good property. On July 18, 2008, the Great Wall steel casting signed the first contract of slag pot, under the situation of financial crisis and shrinking market, on the same year on December 12 we signed 13 pcs of slag pot with South Korea's posco, since 2008 we have signed the contract of more than 50 types of slag pot, and produce 287 pieces of casting process, "they" are exported to countries around the world: the United States Mittal, Germany, Italy, India's TATA steel company, Japan Chiba, Canada, Taiwan. in slag pot manufacturing technology, we have accumulated rich experience in turnover of slag pot liquid container of the black metal, non-ferrous metal, the lead smelting, slag pot has composed the personalized brand new chapter for Great Wall Steel Casting Co., Ltd.

Application:
Blast Furnace
High Temperature Melting Equipment
Steel mill
Metallurgy industry
Mechanical processing industry