Side Frame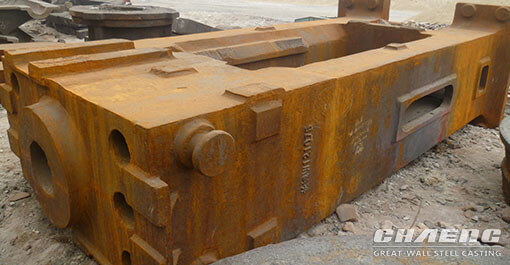 Short cast period

Large production capacity

Top heat treatment technology
Weight : 1~150 t
Material : ASTM: 1035 / DIN: CK35
Customizable : Yes
Press frame occupies about 60% of total weight of the press machine. The performance of press machine is directly determined by its frame. The press frame can apply to the press fitting for shafts, nut set parts and apply to the technology for the simple sheet material parts' stretch, curve, shaping and blanking, etc. The main factors that affect the structural performance of the press frame include reinforcing rib x 1, side plates x 2, upper support plate thickness x 3, web plate thickness x 4 and bottom support plate thicknessx5.
Advertages:
1. After years of accumulation, we are committed to making innovation on the heat treatment technology and apply it to the press frame casting. The wear resisting and impact resistance performance has been greatly improved and good solution for the defect problem of R angle is offered.
2. The casting is made by the high strength steel material, which ensures the press frame can running stably for a long time and extends its service life.
3. Our company has strong production capability in steel castings. For the components such as the press frame, it is available for us to take a batch manufacturing order in a very short cast period and with large production capacity.
Side Frame Manufacturing Process:
1. Wooden pattern Production
2. Molding
3. Pouring
4. First cleaning
5. Heat treatment – grinding (inspection)
6. Rough machining (inspection)-finishing machining (inspection)
7. Packing-delivering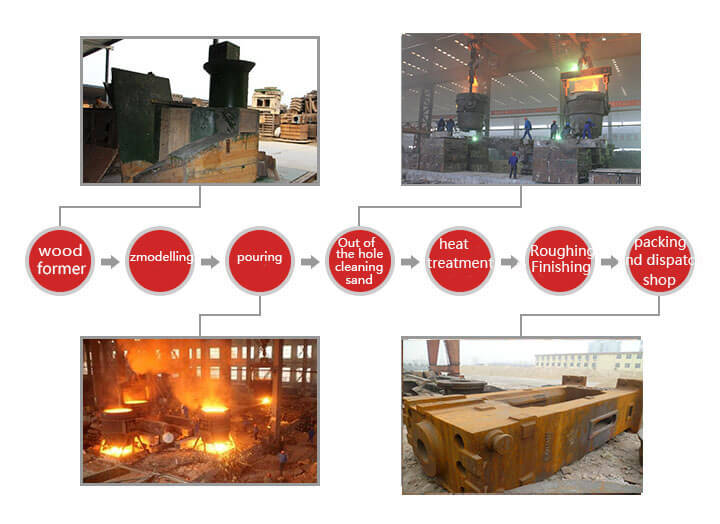 Cases:
Owing to the good service and reliable product quality, our steel castings are widely used by many famous press machine manufacturers in province of Chongqing, Hangzhou, Jiangsu, Zhejiang, etc.
Application:
Forging

Stamping Presses

Rolling Mill