Great Wall cast steel cast five slag pot sent to Germany
Resently,Great Wall cast steel cast five slag pot sent to Germany
Great Wall steel cast advanced casting technology cast a slag pot of professional-quality, perfect service to win the praise of the market. Great Wall steel cast slag pot has been successfully exported to the United States, Mexico, Brazil, India, Korea, the Netherlands, Canada, more than 50 countries and regions.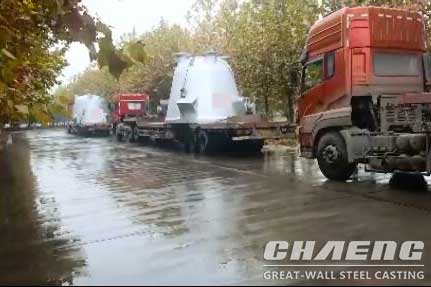 Slag pot casting process: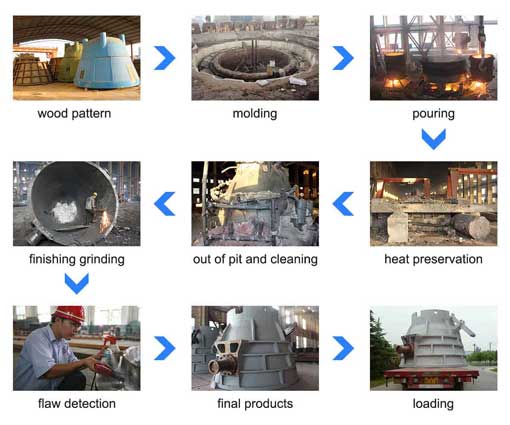 Manufacturing:
Except the supply of the forgings for trunnions and the engineering of the pattern, all further operations
are carried-out at the in-house foundry plant.
1、Moulding
the castings are manufactured in a workman-like manner as required in the China standard DIN EN
1599-1: August 1997, ruling the delivery conditions ofcastings. The moulding is individually carried
out within a modular flask by using a sand preparation based on resin bonding.
2、Trunnions
the trunnions - when any - are preferably cast-in:they are as a rule manufactured from the steel
material S355 J2G3 to DIN EN 10250-2: December1999 and forged as per DIN 7527 February 1975.
Cast-on or hot-fitted trunnions can be also provided.
3、Melting
the melting is carried out in the oxygen steel plant ( 2 off 180 t BOF converters ); the ladle capacity
allows a continuous bottom pouring process the speed of which is permanently controlled. The metal
analysis is checked by using a computer linked spectrograph.
Heavy Fabrication Division
4、Heat treatment
every pot undergoes a combined quality heat treatment (annealing) aiming both to grain refining and
to stress relieving i.e.:
- heating to a temperature above AR3, austenitising at about 915°C and controlled cooling in furnace
- intermediate holding at 600°C - 630°C and completion of cooling in furnace down to 300°C
5、Fettling and dressing
The inner surface is processed fit-for-purpose so that the surface discontinuities - which might cause
some sticking of the slag - are extensively removed. Additionally, the castings are descaled by shotblasting and the outside is additionally coated for transportation.
The surface quality results from the comprehensive practice of the manufacturer qualified by the
requirements of MSS SP-55-1996 (Visual Method for Evaluation of Surface Irregularities).
Perfect Service
1、Cost-effective
Great Wall Cast Steel has advanced casting equipment, strictly abide by the national standard 2 testing standards, 360 ° nondestructive testing system, and ultimately ensure the quality of steel castings reliable, long use.
2、Delivery time is short
Great Wall cast steel has a strong technical team, detailed production scheduling, a wide range of raw materials purchase channels, improve the logistics delivery system, determined to create the shortest delivery time.
3、Intentions service
24h rapid response, 365 days escort
Custom 1-150 t Steel Castings according to Your Drawing
E-mail: casting@chaeng.co