Introduction
The frame is the skeleton structure of large crusher such as cone crusher and jaw crusher, which supports all the working parts and its structural design has a great influence on the production. CHAENG continuously sums up casting experience and improves process technology to produce crusher frame with better performance and longer service life.
| | |
| --- | --- |
| Weight | 5-30T |
| Material | ZG270-500 |
| Application | Mining, cement, chemical and other industries |
| Customizable | Yes, based on user's drawings |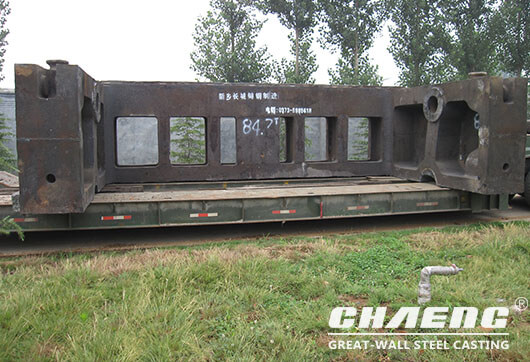 Chat Now
Leave Message
CHAENG is glad to offer you the quality services.
E-mail: casting@chaeng.co WhatsApp:+86-18737831240
CHAENG is glad to offer you the quality services. E-mail: casting@chaeng.co
Processing advantages
1. CHAENG can customize crusher frames according to the drawings of customers for various types of cone crusher, impact crusher, jaw crusher and others.
2. CHAENG uses high-strength steel, and optimize the crusher frame according to operating characteristics of crushers, so that the impact resistance and the wear resistance of the frame are greatly enhanced to prolong the service life.
3. CHAENG can provide a full range of product solutions to meet the specialized and personalized demands of customers.
Base on the requirements of customers, CHAENG selects appropriate wooden mold for modeling design, and uses CAE software to simulate the casting process. Strictly according to the process procedures to produce high-quality crusher frame: wood mold - modelling - pouring - heat preservation - out of the pit, sand cleaning - heat treatment - roughing, finishing - packing and delivery.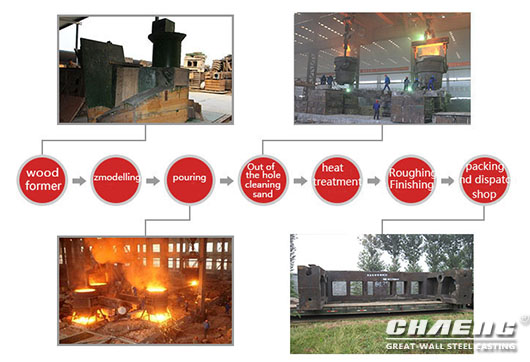 Case
CHAENG take customers' demands into full consideration, and has been recognized by domestic and foreign customers. One Russian company has been purchasing CHAENG crusher frame from 2012 to present, the customers said CHAENG crusher frame matched their large crusher well with better wear resistance, quality and service life, CHAENG was their trusted partner all the time.
large crusher manufacturer in Henan purchased CHAENG crusher frame, and the frame is very stable during operation.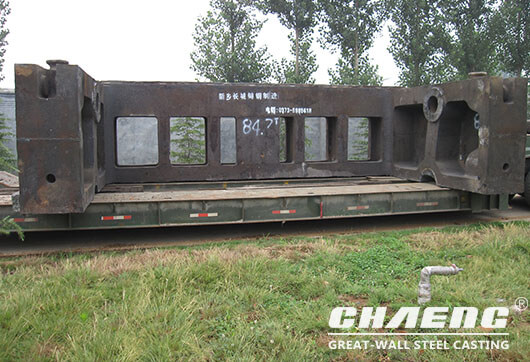 Chaeng Service
1. Cost-effective
CHAENG has the advanced casting equipment, strictly follows the national lever-2 detection standards, and executes 360° all-round nondestructive testing system, to ensure the reliable quality and long service life of steel castings. CHAENG is hailed as "high cost-effective steel castings manufacturer".
2. Fast delivery
CHAENG has strong technical teams, detailed production scheduling, wide range of raw materials purchase channels, and perfect logistics delivery system, making efforts to achieve as fast delivery period as required.
3. "Three-heart" service
The 24h fast response and the customer services in all 365 days rest your heart when you make choice, ease your heart when you use the products, satisfy your heart when you enjoy the services.
Contact Us
E-mail: casting@chaeng.co

Tel.:86-371-55019878

skype:GreatWall1958

WhatsApp:+86-18737831240

Office Add: Mengzhuang Town, Huixian City, Henan Province, China
Technical Support
Telephone:86-371-55019878
WhatsApp:+86-18737831240
skype:GreatWall1958
Email:casting@chaeng.co