Diameter: 7.3m
Material: GS34CrMo4
Unit weight: 34T
Modulus: 36
CHAENG (Great Wall Steel Casting) customized the 7.3m girth gear for Turkey customer, using material GS34CrMo4. And the girth gear is highly praised by customers. The turkey customer said: from acquaintance to cooperation, we went to CHAENG three times. For the first time for investigation on site, it was impressive; second time for quality test, signed cooperation; third time for product acceptance, realized pleasant cooperation.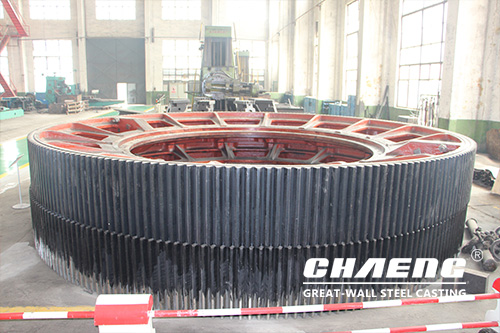 Fig. CHAENG girth gear exported to Turkey
Advantages of CHAENG girt gear:
1.High abrasion resistance
CHAENG adopts unique heat treatment technology to optimize the girth gear structure, and improve its hardness, wear resistance and the impact force.
2. High strength steel ensures, long working time
CHAENG uses the high-strength steel, and optimize it according to the transmission characteristics of rotary kiln and ball mill, which ensure its stability during long-time working and prolong the service life of the gears.
3. Efficient mass production, shorten the delivery time
CHAENG has strong strength for steel casting parts, and can produce in large quantities with short production time and high output.
The achivement of also confirms the customer's choice, in just a few years time, excellent product quality makes the CHAENG girth gear sold to Henan, Guangdong, Hubei, Jiangsu, Zhejiang and other provinces, and also exported to Italy in 2012.