Large cast steel ladle for steel making - CHAENG
28 Apr 2019 UTC+8 Views:
The slag ladle is an important container for the high-temperature slag in the metallurgical industry, and is mainly used in the blast furnace workshop, the converter workshop, and the refining workshop. Founded in 2007, Great Wall Steel Casting (CHAENG) specializes in the production of cast steel ladle for steel making, providing nearly one thousand slag ladles for many steel plants and smelters at home and abroad.
Images of CHAENG ladles for steel making: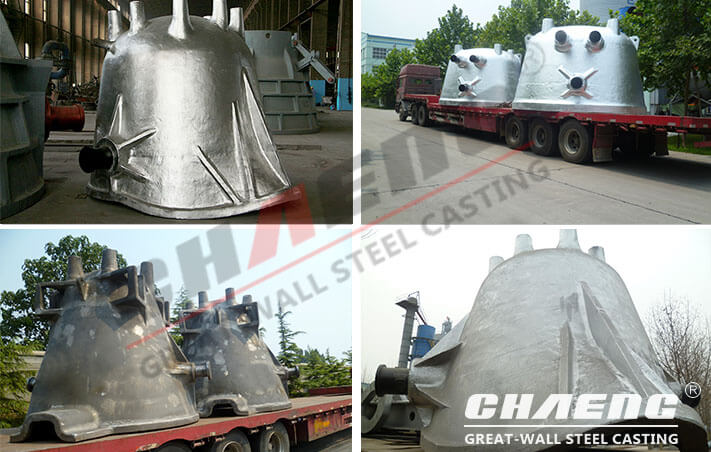 1. Mature process
CHAENG has many years of slag ladle processing experience, and can develop the most suitable processing technology according to the user's drawings and needs.
CAHENG uses InteCast software to simulate and optimize the casting process to improve casting quality.
CHAENG adopts advanced heat treatment process to significantly improve the plasticity and toughness of the slag ladle.
2. Strict quality inspection
CHAENG has a complete slag ladle inspection system, which strictly tests the whole slag ladle, especially the ultrasonic testing and magnetic particle testing of the bottom and trunnion of the slag ladle to ensure no cracks, shrinkage holes, porosity, gas holes, sand holes, slag inclusions and other casting defects that affect quality.
3. Rich cases
CAHENG slag laldes are exported to Belgium, Brazil, the United States, Finland, the Netherlands, Japan, Germany, India, South Korea, Thailand, Mexico, South Africa, Chile, Italy, Brazil, France, Austria and other countries. And CHAENG has Long-term cooperation with international large steel companies such as Mittal, TATA, VAI, and Baosteel. These rich cases are a strong proof of the superior quality of CHAENG slag ladles.